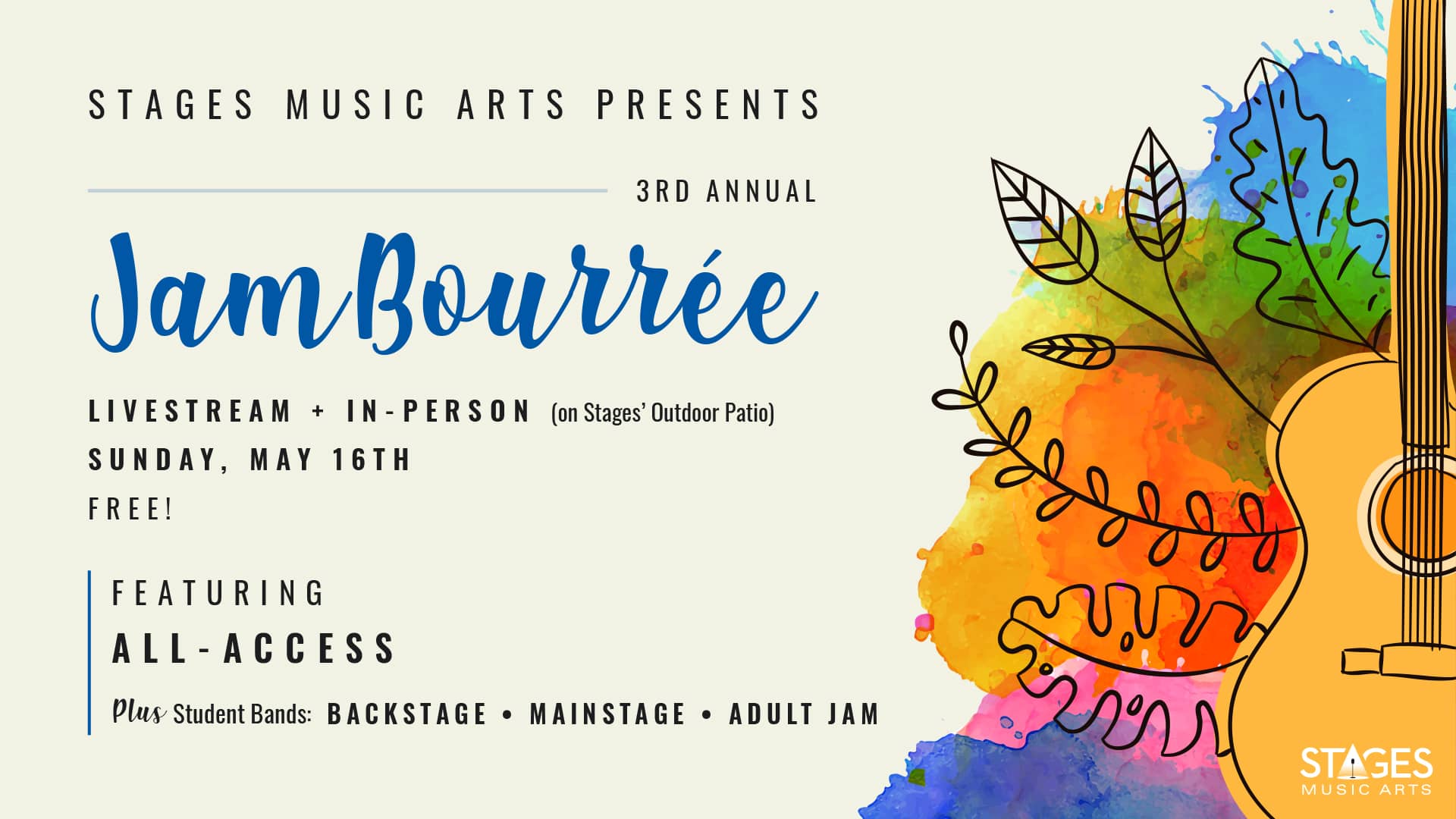 Mark your calendars for our 3rd annual student band showcase JamBourrée on Sunday, May 16th 2021!
Hosted on our outdoor patio, this safe, socially distant, and FREE outdoor concert will have a limited capacity live audience and feature performances by all our Stages bands!
---
Students should arrive 30-minutes before their scheduled start time
Performers and guests are limited to a 90-minute stay
---
View photos from our 2019 JamBourrée!
2021 JamBourrée Line-up
| | | |
| --- | --- | --- |
| Time | Band | Instructor |
| 10:00 am – 10:30 am | MainStage: A Banned Name | Sanjay |
| 10:40 am – 11:10 am | Adult Jam: Turtle Shell | Paul |
| 11:20 am – 11:50 am | MainStage: Aluminum Toucan | Paul |
| 12:00 pm – 12:30 pm | MainStage: Motorcycles | Brennan |
| 12:40 pm – 1:10 pm | BackStage: Breadheads | Brennan |
| 1:20 pm – 1:50 pm | MainStage: Julius And The Pringles | Ian |
| 2:00 pm – 2:30 pm | Rising Stars | Ian |
| 2:40 pm – 3:10 pm | All Stars | Ian |
| 3:20 pm – 3:50 pm | Adult Jam: The Remedy | Mitch |
| 4:00 pm – 4:30 pm | BackStage: Monotone | Shannon |
| 4:40 pm – 5:00 pm | BackStage: Advanced Generation | Shannon |
| 5:10 pm – 5:40 pm | BackStage: Generation Z | Molly |
| 5:50 pm – 6:20 pm | MainStage: Corner Grove | Walsh |
| 6:30 pm – 7:00 pm | MainStage: Wocky Slush | Walsh |
| 7:10 pm – 7:40 pm | Adult Jam: Basement Blues Band | Evan |