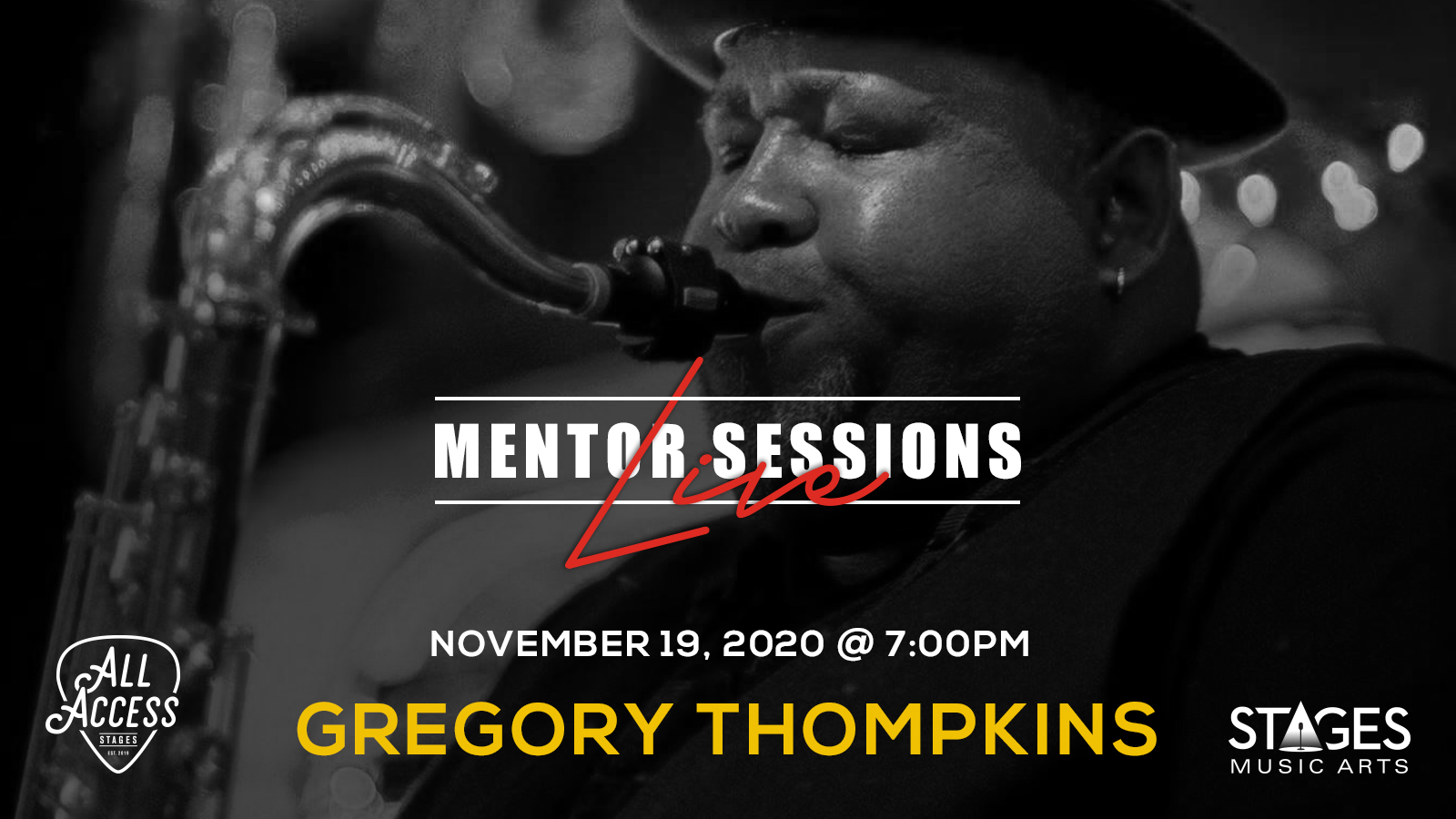 The second installment of Mentor Sessions Live features tenor saxophonist extraordinaire Gregory Thompkins! The concert will be streamed live from Studio-A on Thursday, November 19 at 7:00 p.m. Tune-in to our Facebook page and watch Greg perform alongside All-Access, Stages Music Arts' all-star band!
About All-Access
The All-Access program is the highest level of achievement for a Stages Music Arts student. Acceptance into the band is an honor only achieved by a limited number of students. Stages Music Arts leverages its relationships with local concert venues, promoters, and the area's best musicians to provide All-Access with exclusive learning, performing, and recording opportunities.
Auditions now open! Send us an email at info@stagesmusicarts.com or visit www.stagesmusicarts.com/all-access.
About Mentor Sessions Live
Mentor Sessions Live is a new collaborative educational and performance experience at Stages Music Arts!
Through a dedicated program of workshops, masterclasses and performances, students in Stages Music Arts' audition-based all-star band All-Access will learn and perform alongside some of the top artists and educators in the DC-Baltimore region. Booked as a mini-tour, All-Access students will have the opportunity to perform in professional livestream concerts, surrounded by these master-level musicians.
About Greg Thompkins
Gregory Thompkins has been called "One of Baltimore's premier Tenor Saxophonist" by The Baltimore Sun and is best known for his long association with the All Mighty Senators and Lafayette Gilchrist –– both of which he has performed and recorded with extensively. A stronghold in the Baltimore jazz scene, Greg still plays regularly with Carl Filipiak, is a Yamaha Artist ,and a Member of the Maryland Entertainment Hall of Fame.