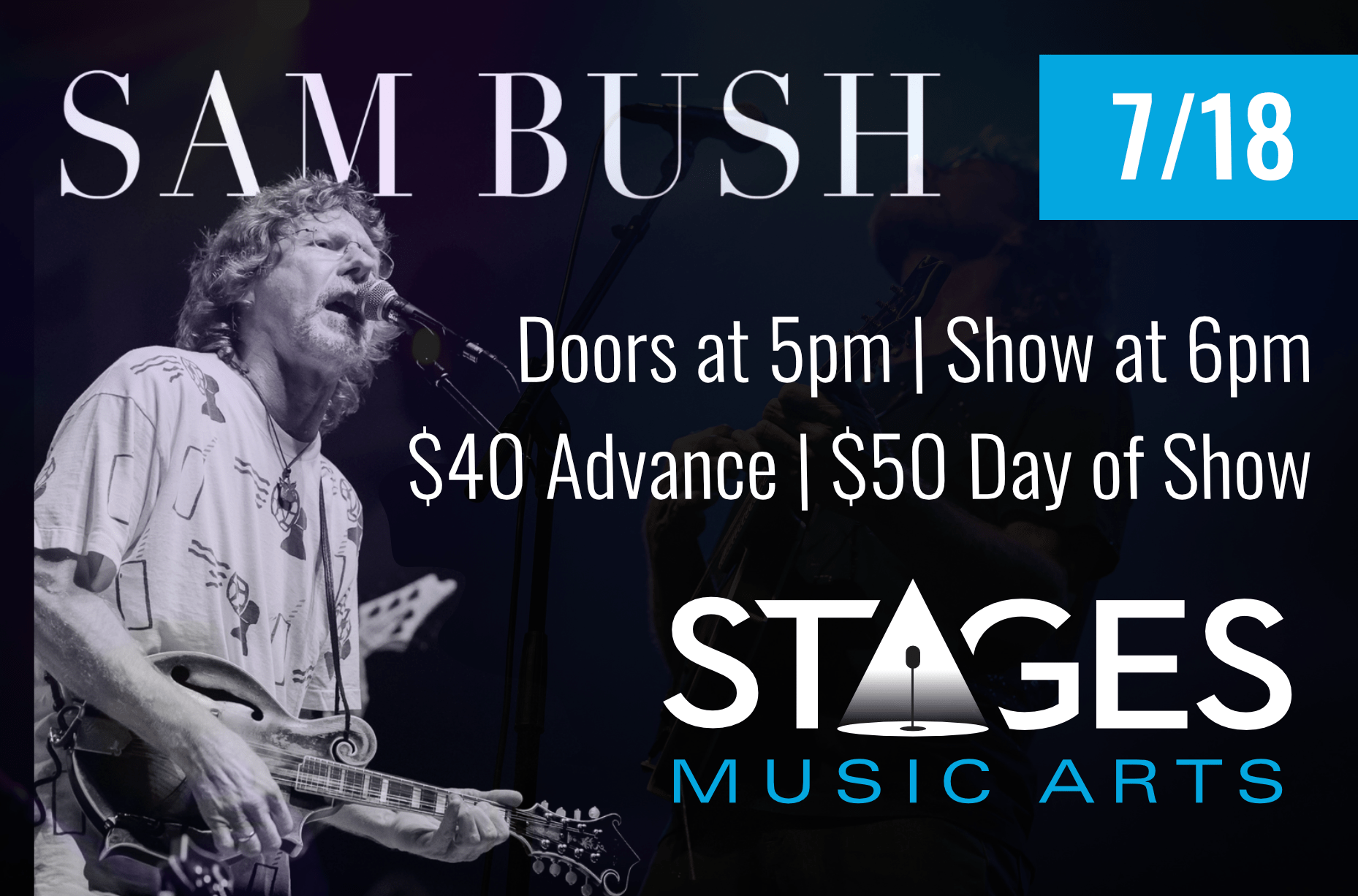 Get Tickets
There was only one prize-winning teenager carrying stones big enough to say thanks, but no thanks to Roy Acuff. Only one son of Kentucky finding a light of inspiration from Bill Monroe and his Blue Grass Boys and catching a fire from Bob Marley and The Wailers. Only one progressive hippie allying with like-minded conspirators, rolling out the New Grass revolution, and then leaving the genre's torch-bearing band behind as it reached its commercial peak.
There is only one consensus pick of peers and predecessors, of the traditionalists, the rebels, and the next gen devotees. Music's ultimate inside outsider. Or is it outside insider? There is only one Sam Bush.
—
Join us for a live performance by Sam Bush at Stages Music Arts, the area's premier venue for Live Music, Recording, Music Lessons, and so much more! We can't wait to see you for a one one-of-a-kind musical experience.
The safety of visitors, performers, and staff at our venue remains our top priority. For more information about your upcoming visit to Stages Music Arts, see the Outdoor Event Policies & Additional Information provided below:
CONCERT CONDITIONS
What is your policy regarding inclement weather?
Outdoor events at Stages Music Arts take place rain or shine.
What are my options for seating at an outdoor event?
Be sure to bring portable or collapsible chairs for added comfort.
Is smoking allowed?
No smoking is allowed unless in a designated smoking area.
Are pets allowed inside the venue?
Pets are not allowed with the exception of licensed service animals.
What else should I know?
No professional cameras or recording devices are permitted inside the venue without the express permission of Stages Music Arts. Laser Pointers, weapons, selfie sticks, and tobacco products are strictly prohibited. Shoes are required at all times at the venue. One (1) ticket is required per visitor age ten years old and older.
LOCATION, PARKING, & ENTRY
Where is the venue located?
Outdoor concerts at Stages Music Arts outdoor performance stage take place on 20,000ft² of open space at 10 Stenerson Lane in Hunt Valley, Maryland.
What is the parking situation?
On-site parking for events is limited, available by purchasing a parking pass on a first-come, first-serve basis. Limited free parking is available on roads adjacent to the venue. Ridesharing makes for a great alternative, not only for convenience but also for the environment. See the map below for more parking information.
FOOD & ALCOHOL POLICY
Is outside food permitted inside the venue?
Yes, outside food is welcomed, and a food vendor will often be on-site for your event. All food transported in coolers must be transported in soft coolers only. Glass containers are strictly prohibited. Food in bags should be packaged in clear containers.
Is alcohol permitted inside the venue?
This is an all-ages event. Unless otherwise noted, this is a BYOB event, with beer and wine permitted inside the venue with the purchase of a separate BYOB ticket (for guests ages 21 and older). All alcohol transported in coolers must be transported in soft coolers only. Glass containers are strictly prohibited.
BAG POLICY
What types of bags am I permitted to bring into the venue?
Backpacks of any size are strictly prohibited inside the venue. Bags shall not be larger than 15" x  15". Bags may be searched randomly prior to entry.
COVID-19 CONDITIONS
What is your policy regarding COVID-19?
Masks are required on-site when patrons are not eating or drinking. Please practice social distancing out of respect to fellow concertgoers, performers, and event staff.
Can you answer "NO" to the following questions?
• Within the past 48-hours have you experienced fever, chills, cough, or shortness of breath, muscle or body aches, vomiting or diarrhea, or new loss of taste or smell?
• Within the last 10 days have you been in close contact with an individual who tested positive for COVID-19?
• Have you tested positive for COVID-19 within the last 10 days?
LOST AND FOUND 
Do you have a lost and found?
Yes. For items that may have been misplaced at one of our events, please call (443) 353-5300 for assistance.
CONTACT 
For more information, or for visitors who require special accommodations due to medical or accessibility concerns, please call (443) 353-5300 to speak with a member of our staff, or send an e-mail to info@stagesmusicarts.com.
Kids 10 and under are free
Details
Date:

July 18

Time:

5:00 pm

Event Categories:

Event Tags:
Venue
The Field Stage at Stages Music Arts