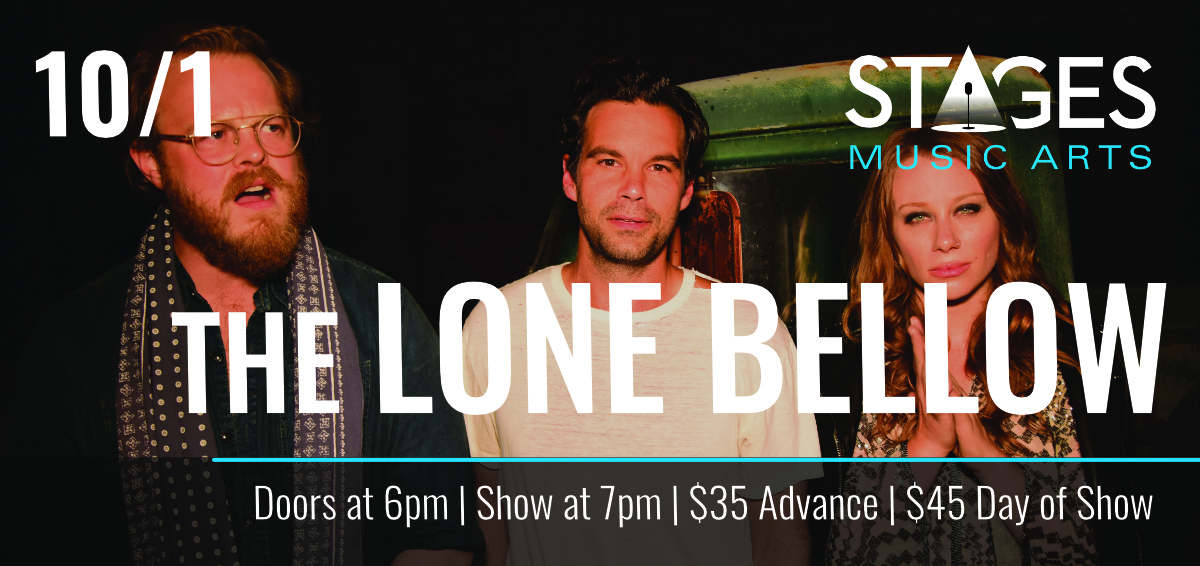 Get Tickets
Join us for a live performance by The Lone Bellow on the Patio Stage at Stages Music Arts.
Half Moon Light is an artistic triumph worked toward for years, earned not by individual posturing, but by collective determination and natural growth. With earthy three-part harmonies and songwriting as provocative as it is honest, the trio made up of Brian Elmquist, lead vocalist Zach Williams, and multi-instrumentalist Kanene Donehey Pipkin creates sparks that make a stranger's life matter or bring our sense of childlike wonder roaring back. On Half Moon Light, The Lone Bellow mix light and dark to muster a complex ode to memory, a call for hope, and an exercise in empathy. Anchored in the acoustic storytelling that first so endeared the band to fans and critics, Half Moon Light also takes more chances, experimenting with textures and instrumental fillips to create a full-bodied music experience. The result is The Lone Bellow's most sophisticated work to date.
—
The safety of visitors, performers, and staff at our venue remains our top priority. For more information about your upcoming visit to Stages Music Arts, see the Outdoor Event Policies & Additional Information provided below:
CONCERT CONDITIONS
Is smoking allowed?
No smoking is allowed unless in a designated smoking area.
Are pets allowed inside the venue?
Pets are not allowed with the exception of licensed service animals.
What else should I know?
No professional cameras or recording devices are permitted inside the venue without the express permission of Stages Music Arts. Laser Pointers, weapons, selfie sticks, and tobacco products are strictly prohibited. Shoes are required at all times at the venue. One (1) ticket is required per visitor.
LOCATION, PARKING, & ENTRY
Where is the venue located?
The Julian S. Smith Performance Hall is located inside Stages Music Arts at 10 Stenerson Lane in Hunt Valley, Maryland.
What is the parking situation?
On-site parking for events is limited to a first-come, first-serve basis. Limited free parking is available on roads adjacent to the venue. Ridesharing makes for a great alternative, not only for convenience but also for the environment.
FOOD & ALCOHOL POLICY
Is outside food permitted inside the venue?
There is no food allowed for this show.
Is alcohol permitted inside the venue?
This is an all-ages event. Unless otherwise noted, this is a BYOB event, with beer and wine permitted inside the venue with the purchase of a separate BYOB ticket (for guests ages 21 and older). All alcohol transported in coolers must be transported in soft coolers only. Glass containers are strictly prohibited.
BAG POLICY
What types of bags am I permitted to bring into the venue?
Backpacks of any size are strictly prohibited inside the venue. Bags shall not be larger than 15" x  15". Bags may be searched randomly prior to entry.
COVID-19 CONDITIONS
What is your policy regarding COVID-19?
Masks are not required however it is recommended that anyone who is not vaccinated wear them. Please practice social distancing out of respect to fellow concertgoers, performers, and event staff.
LOST AND FOUND 
Do you have a lost and found?
Yes. For items that may have been misplaced at one of our events, please call (443) 353-5300 for assistance.
CONTACT 
For more information, or for visitors who require special accommodations due to medical or accessibility concerns, please call (443) 353-5300 to speak with a member of our staff, or send an e-mail to info@stagesmusicarts.com.