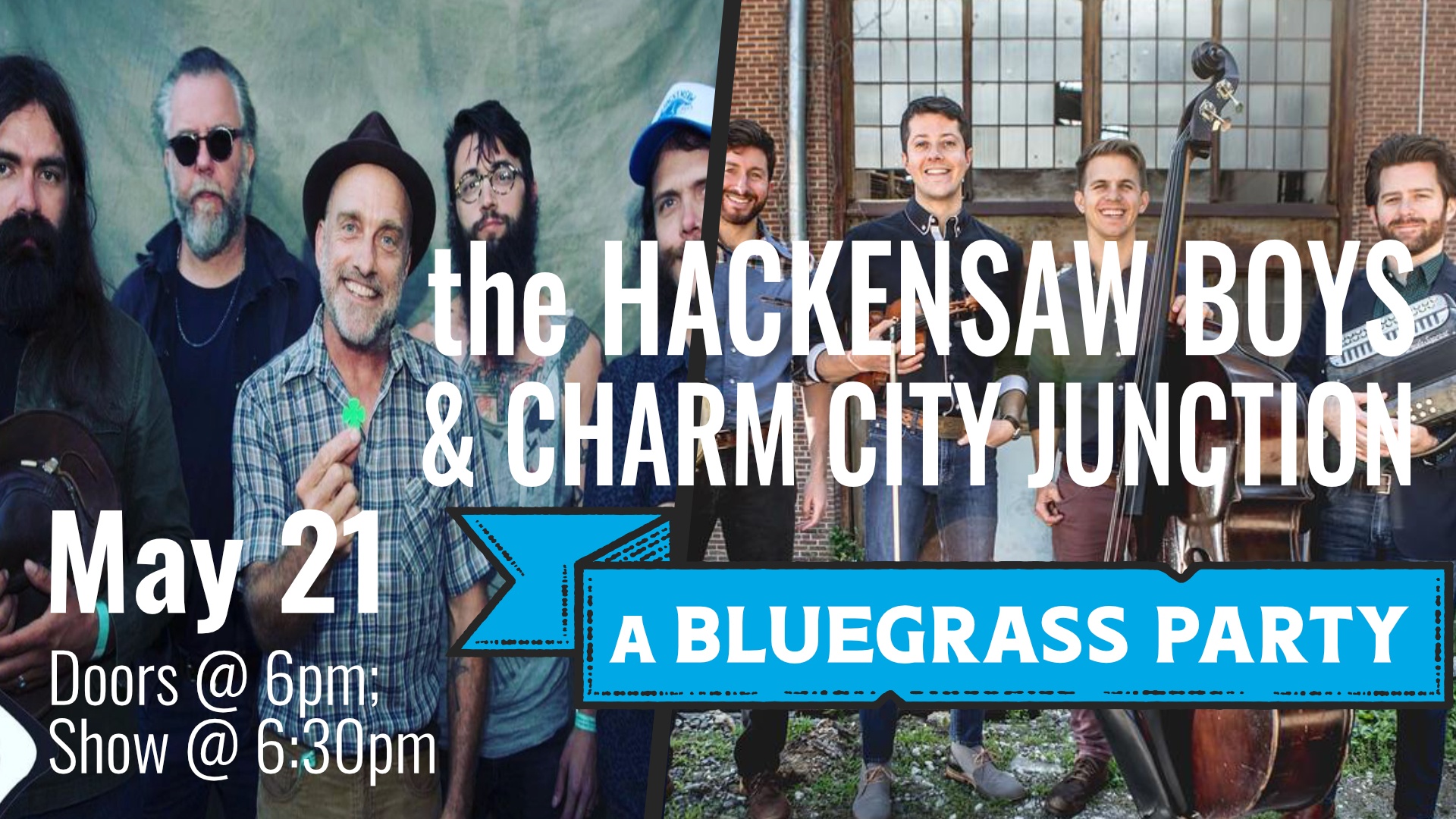 Come enjoy an all ages outdoor socially distanced show at Stages Music Arts in Cockeysville, MD.
This is a BYOB event (21+) (BYOB ticket required per drinker) (No Glass allowed, Beer and Wine ONLY) (Soft Coolers ONLY).
Please wear masks when not drinking or eating. Outside food is allowed, we will have a food vendor onsite.
Please be mindful of social distancing.
Rain or Shine.
Get Tickets
About the Artists
The Hackensaw Boys
For almost two decades, the Hackensaw Boys have plowed the asphalt bringing their raw, gritty American vernacular sounds to the music halls and streets across the world. Twenty years later, the group continues their burning hot vision of American roots music into a new age, fueled as much by a rowdy punk spirit as by the traditional masters that first inspired them.
The music began in 1999 when four friends from Virginia's beautiful Shenandoah Valley found their collective ways to the roots music hub of Charlottesville. They didn't waste time getting going, playing a show on the street the day of their first practice. The group let the good times roll and started adding like-minded people until their ranks reached twelve players for their first US tour. As with the folk and punk traditions which form the foundation of their sound, they've always operated more as a collective than a band. Helmed by founding member David Sickmen, the Hackensaw Boys have always had more in common with bands like The Clash, who celebrated the working class roots of their own music, than they did with an overly-polished Nashville mainstream sound.
"The band infuses their grassy tornado with brazen punk attitude and catchy pop structure, while simultaneously remaining vehemently sincere."
— Pitchfork
Charm City Junction
SiriusXM 2016 IBMA Momentum Band of the Year Nominee
From dance-inducing Old Time rhythms and foot-stomping Irish melodies to hard-driving Bluegrass, Baltimore-based acoustic roots quartet Charm City Junction creates a fresh soundscape that keeps listeners on the edge of their seats wondering where they'll go next. The band is comprised of four of the most talented and promising young musicians in the country: Patrick McAvinue on fiddle, Brad Kolodner on clawhammer banjo, Sean McComiskey on button accordion and Alex Lacquement on upright bass.