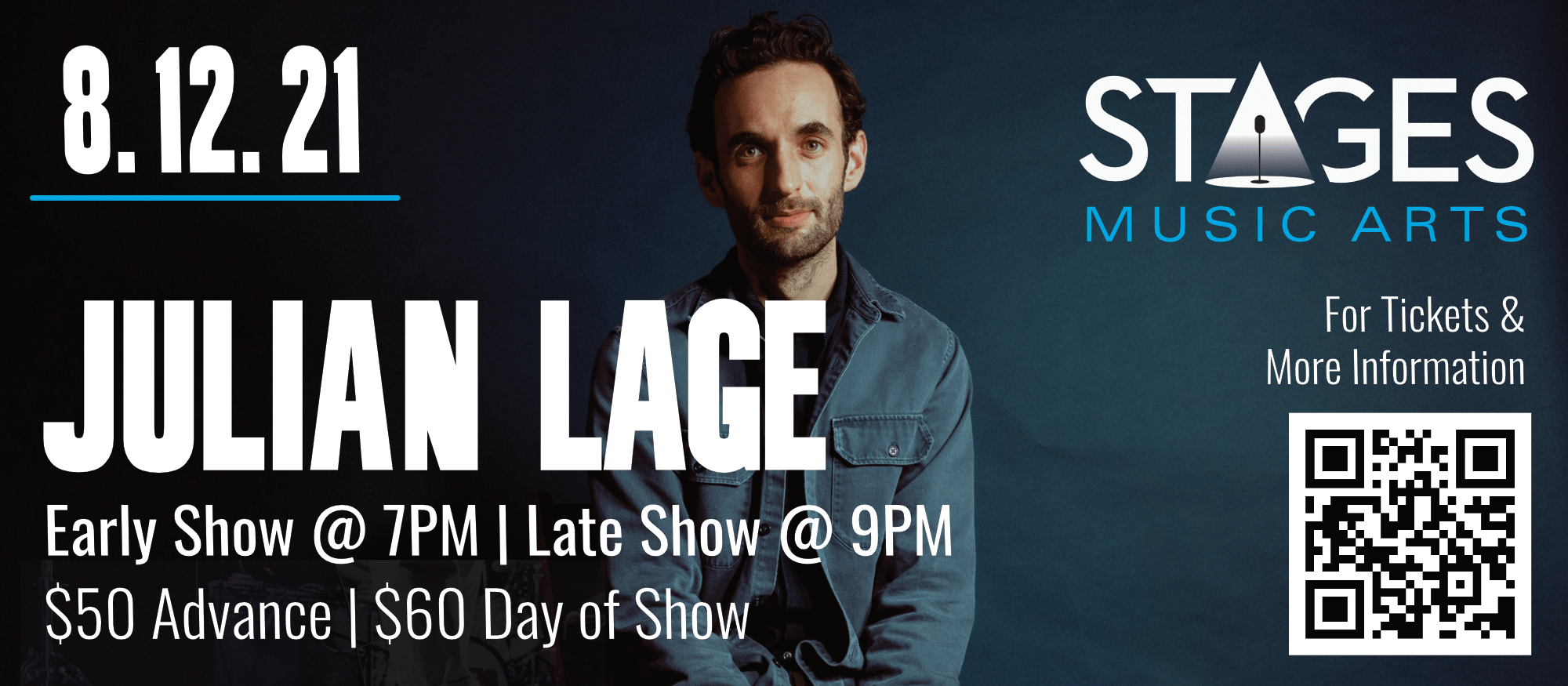 Get Tickets
Join us for two live performances by the Julian Lage Trio in the beautiful and intimate Performance Hall at Stages Music Arts. Lage has long been heralded for his virtuosic ability as a guitarist. The New York Times calls him "a performer who burns brightly – the pace he sets is brisk, the mood often upbeat, the playing so quick-witted and offhandedly dazzling that one is compelled to immediately press repeat."
Join us as Lage performs his striking new album, Squint, that weds incisive, expressive songwriting with the profound interplay he has honed over the past few years with his deft trio, featuring bassist Jorge Roeder and drummer Dave King. Enjoy this one-of-a-kind musical experience in our intimate 60-seat Performance Hall at Stages Music Arts, the area's premier venue for Live Music, Recording, Music Lessons, and so much more! We can't wait to see you!
The safety of visitors, performers, and staff at our venue remains our top priority. For more information about your upcoming visit to Stages Music Arts, see the Outdoor Event Policies & Additional Information provided below:
CONCERT CONDITIONS
Is smoking allowed?
No smoking is allowed unless in a designated smoking area.
Are pets allowed inside the venue?
Pets are not allowed with the exception of licensed service animals.
What else should I know?
No professional cameras or recording devices are permitted inside the venue without the express permission of Stages Music Arts. Laser Pointers, weapons, selfie sticks, and tobacco products are strictly prohibited. Shoes are required at all times at the venue. One (1) ticket is required per visitor.
LOCATION, PARKING, & ENTRY
Where is the venue located?
The Julian S. Smith Performance Hall is located inside Stages Music Arts at 10 Stenersen Lane in Hunt Valley, Maryland.
What is the parking situation?
On-site parking for events is limited to a first-come, first-serve basis. Limited free parking is available on roads adjacent to the venue. Ride sharing makes for a great alternative, not only for convenience but also for the environment.
FOOD & ALCOHOL POLICY
Is outside food permitted inside the venue?
There is no food allowed for this show.
Is alcohol permitted inside the venue?
This is an all-ages event. Beer and wine is permitted inside the venue with the purchase of a separate BYOB ticket (for guests ages 21 and older). All alcohol transported in coolers must be transported in soft coolers only. Glass containers are strictly prohibited.
BAG POLICY
What types of bags am I permitted to bring into the venue?
Backpacks of any size are strictly prohibited inside the venue. Bags shall not be larger than 15" x  15". Bags may be searched randomly prior to entry.
LOST AND FOUND 
Do you have a lost and found?
Yes. For items that may have been misplaced at one of our events, please call (443) 353-5300 for assistance.
CONTACT 
For more information, or for visitors who require special accommodations due to medical or accessibility concerns, please call (443) 353-5300 to speak with a member of our staff, or send an e-mail to info@stagesmusicarts.com.
Details
Date:

August 12

Time:

5:00 pm

Event Categories:

Event Tags:
Venue
Julian S. Smith Performance Hall