Virtual Event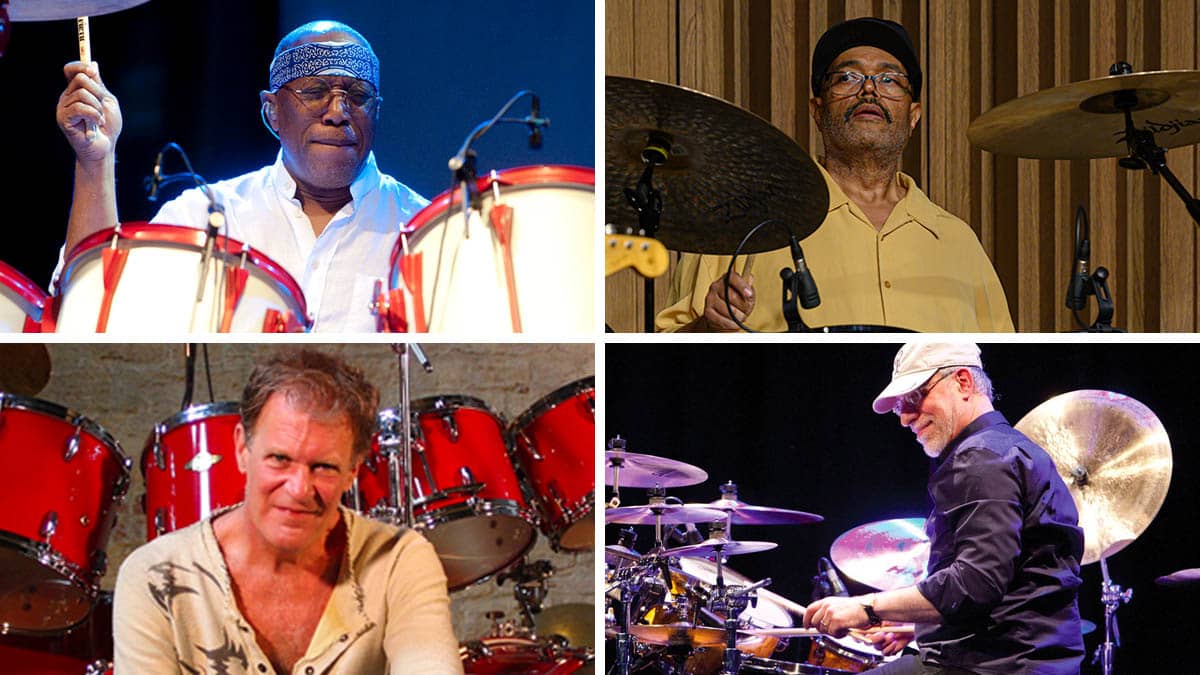 Establish, as a drummer, a sense of being a contributor to the foundation of the rhythm section in order to support your fellow musicians. Other topics covered include treatment of tempo and how to establish a groove in the rhythm section.
Instructors: Billy Cobham, Dennis Chambers, Gary Husband, and Dom Famularo
Play-Along: Stratus
Foundational topics: Tempo, technique, dynamics, phrasing, listening, and interaction
Get Tickets
Prior Student Testimonials

This was a life changing experience!
Kellie Rae T.

The Art of the Rhythm Section Retreat was amazing. I learned so much from all of the coaches!
Malachi S.

It was incredible playing with Billy and Spectrum 40 Band and benefitting from each of the coaches' perspectives!
Ron W.

In a word, transformational!
Ioannis G.
About the Series
Legendary drummer Billy Cobham is opening his musical world up in a first-of-its-kind exclusive online workshop series: Billy Cobham's Guide to Stress-Free Drumming. In a series of 9 three-hour monthly workshops, Cobham and a group of hand-picked guests – world-class drummers Dennis Chambers, Gary Husband, Will Calhoun and Dom Famularo – will teach the art of playing "simply but effectively." Cobham and his guests will explore how to be the pulse, creating a foundation to support your fellow musicians while injecting your musical history and unique voice into your performance. These masterclasses will offer live coaching, giving participants a chance to have their playing personally reviewed by some of the greatest drummers in the world.
The Opportunity of a Lifetime!
Drumless Play-Alongs
Each class includes a download of a Billy Cobham original composition, drumless play-along, and PDF transcription.
Attendees have the opportunity to submit recordings of themselves playing along to Billy's original songs and can receive live feedback from Billy and the instructors.
Meet Your Instructors
Billy Cobham

Dennis Chambers

Gary Husband

Dom Famularo

Widely acknowledged as the greatest fusion drummer of all time, Cobham came to prominence in the late '60s and early '70s playing on seminal recordings by Miles Davis and then the Mahavishnu Orchestra. A prolific band leader with more than 30 albums under his name, Cobham's influence stretches well beyond the world of jazz. Billy Cobham's Guide To Stress Free Drumming is the culmination of his life's work.

Dennis Chambers is a legendary, well respected American drummer who has recorded and performed with artists such as Santana, Steely Dan, and Parliament/Funkadelic. Dennis is mostly known for his ability to perform with impeccable and funky timing in whatever style he's called upon to play, as well as his incredible, fast chops.

Gary Husband is one of a rare breed of musicians in that his expression is divided equally in his capacity as a drummer and a keyboardist of international repute. His classical roots, his quest and development in the improvisational, jazz and jazz/fusion areas – not to mention his tenure in the pop, rock, funk and blues circuits – are all evident inside Gary's distinct and far- reaching musical personality.

Dom Famularo has been traveling the globe preaching the gospel of drumming for over 40 years. Dom's career has been built upon his unique skills as a drummer, educator, author and motivational speaker.