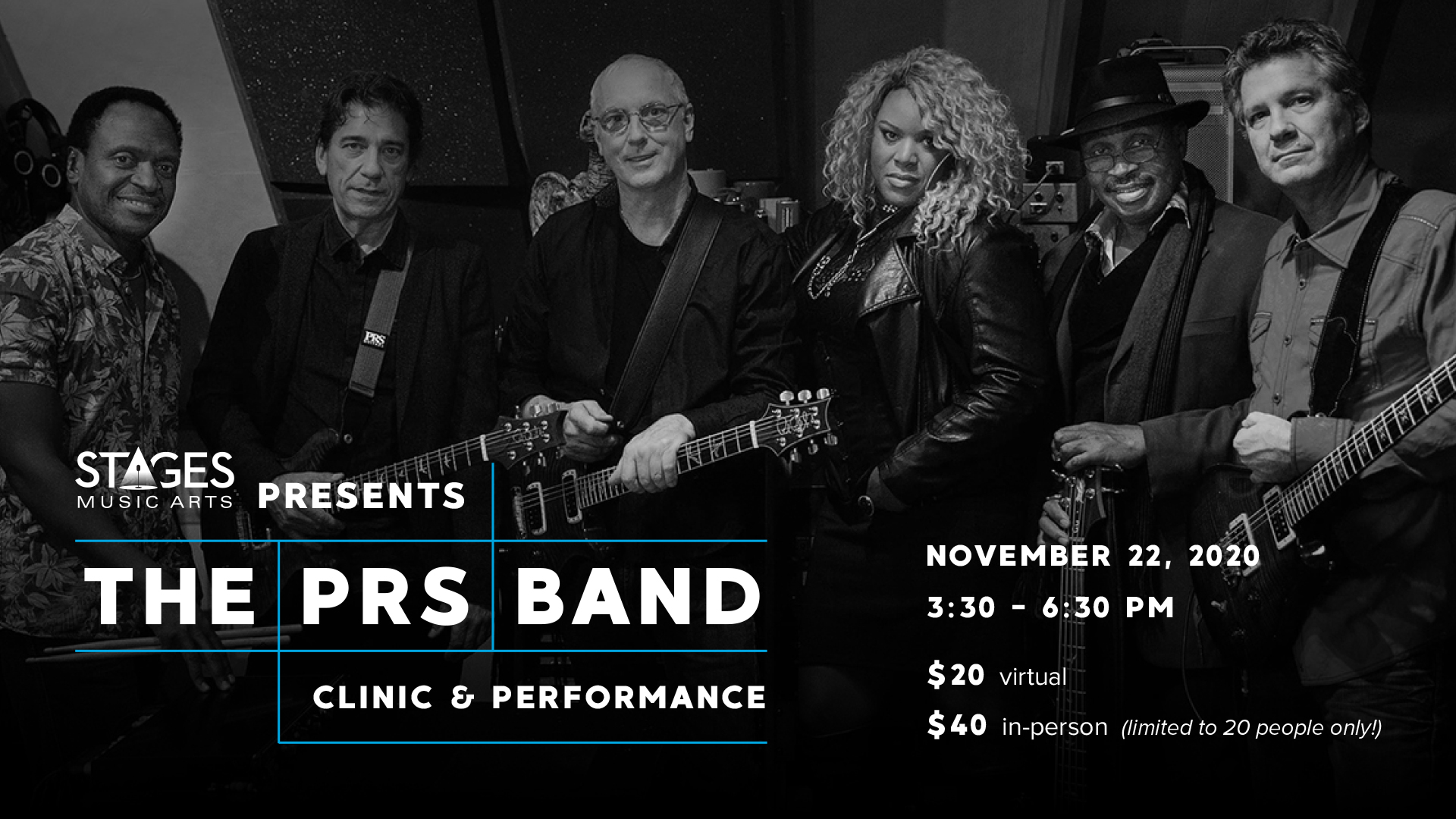 Stages Music Arts is pleased to welcome Maryland's own legendary guitar maker Paul Reed Smith and his namesake band, The Paul Reed Smith Band, for a clinic and performance on Sunday, November 22, 3:30 to 6:30 p.m.
The event will be live-streamed from Stages Music Arts' performance theater and is limited to a small in-person audience. Tickets are $20 for online attendees, $40 for in-person attendees (limited to 20 people only!).
Open to all skill levels and instruments, the theme of the clinic is "Understanding Harmony, Melody, and Rhythm to Make You a Better Musician." The clinic will include a Q&A session and extensive interactive portions, helping participants take their music career to the next level.
The clinic culminates with a performance that will feature a diverse mix of music ranging from funk, rock and blues to R&B, Cajun swing and reggae. After all, The Paul Reed Smith Band is known for their unique combination of funk, rock, R&B, fusion and DC/Baltimore groove, which Smith describes as Chesapeake Gumbo Neo-Soul.
The Paul Reed Smith Band Members:
Paul Reed Smith (Guitar)
Gary Grainger (Bass)
Greg Grainger (Drums)
Mike Ault (Guitar)
Bill Nelson (Guitar)
Mia Samone (Vocals)
About The Paul Reed Smith Band
Paul Reed Smith is synonymous with quality when it comes to building instruments. He is widely regarded as one of the top guitar makers in the world and has produced instruments for top-level guitarists like Carlos Santana, Mark Tremonti and John Mayer. His instruments are known for their precise craftsmanship and wonderful sound, making him a staple in the music community. If you're playing a PRS guitar, you have an understanding of your craft.
Although Paul is most famous for his skills as a craftsman, he is also a talented musician who deftly applies his skills in the PRS Band, which is composed of the world-famous Grainger brothers (Greg & Gary) in the rhythm section, Michael Ault & Bill Nelson on guitars, Mia Samone delivering killer vocals, and Paul Reed Smith's bold lyrical tone on guitar.